Construction Technology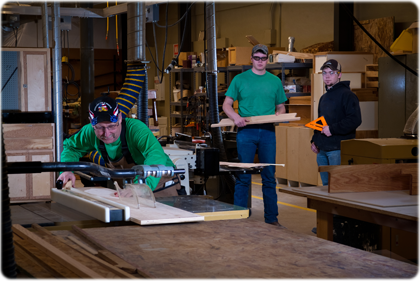 NOTE: This program is currently in moratorium.
This program is undergoing curricular changes and is temporarily not accepting new students.  For more information, please contact Ryan Loomis at 447-6904.
What type of job can I get?
Construction Helper
Construction Laborer
Construction Inspector
Job outlook & wages
Median Wage in MT*:  $33,160 - $41,810
Median Wage in US*:  $27,780 - $52,360
Expected Growth in MT*:  10.9% - 12.5%
Expected Growth in US*:  16.8% - 20.5%
*Bureau of Labor Statistics, Office of Employment Projections; MT Dept. of Labor and Industry, Research and Analysis Bureau
Degrees
Certificate of Applied Science – Carpentry
Associate of Applied Science – Construction Technology
What you'll learn
Construction Technology prepares students with entry level skills for the construction industry.  The Certificate of Applied Science, or one-year Carpentry Program, includes site layout, framing, floors, walls, and roofs, as well as interior and exterior finishing, and welding.  The two-year Associate of Applied Science program adds stationary tools, construction management, construction estimating, light equipment and rigging, and special topics in construction.  These classes are taught using a combination of classroom work and hands-on building.  Students will need professional tools to gain employment upon graduation; therefore, they are required to purchase a tool set outlined in the tool section.
 Upon successful completion of this program, a student will be able to:
Build components used for residential floor systems, wall systems, roof systems and stairs
​​Install windows, interior and exterior doors, interior trim and casing, locksets, and hardware as well as exteriors corners, soffit, fascia, cornices and exterior siding​
Demonstrate the importance of energy efficient building and insulating techniques and be able to install various insulation materials
Install, tape , finish, and texture drywall
Demonstrate basic methods and safety procedures of moving material and equipment on the job site
Demonstrate the basic inspection techniques, knots, and load handling along with the American National Standards Institute hand signals
Operate a skid steer, forklift, rough terrain forklift (extend-a-boom forklift), and scissor lifts
Demonstrate basic competence in the use of stationary machines for constructing cabinets
Perform site layout using distance measurement and leveling
Identify different types of decks and patios, including identification of the different types of railings where required.
Estimate for both residential and light commercial construction with emphasis on residential
Perform calculations using a construction calculator to estimate site-development, concrete costs, and all building materials associated with a construction project
Demonstrate ability to carry out basic electrical, plumbing, masonry skills associated with residential construction
Demonstrate the ability to work professionally according to industry standards
Program cost
$3,780 - $7,313 (Depending on Program Length)
Potential employers
Instructors
Mike Ceartin
Jim More
Harold Kelly