Fire and Rescue
This program is offered in Helena and Missoula.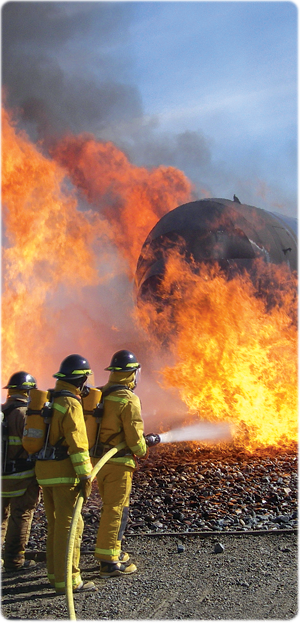 The Helena College Fire and Rescue program is accredited the International Fire Service Accreditation Congress (IFSAC). 
IFSAC is a peer-driven, self-governing system of both fire service certification programs and higher education fire-related degree programs. The IFSAC Certificate Assembly provides accreditation to entities that certify the competency of and issue certificates to individuals who pass examinations based on National Fire Protection Association (NFPA) fire service professional qualifications and other standards approved by the Assembly. The IFSAC Degree Assembly accredits fire science or related academic programs at colleges and universities.
What type of job can I get?
Firefighter
Program Reviews
Assessment
Program Assessment Academic Year 2017
Program Outcomes Academic Year 2017
Job outlook & wages
Median Wage in MT*:  $43,460
Median Wage in US*:  $45,250
Expected Growth in MT*: 13.9%
Expected Growth in US*:  18.5%
*Bureau of Labor Statistics, Office of Employment Projections; MT Dept. of Labor and Industry, Research and Analysis Bureau
  Connect with us on Facebook!     

Degrees
Associate of Applied Science – Fire and Rescue
What you'll learn
All coursework required in the Fire and Rescue program is offered in Helena and Missoula.  Fire and Rescue courses concentrate on training in fire behavior, extinguishing agents, apparatus, tactics, rescue, and safety.  Students will experience live fire situations in training mock-ups, which will prepare them to enter various careers.  Official acceptance into the Fire and Rescue program is contingent upon the student successfully completing two physical requirements.  The first requirement is passing a physical exam performed by the student's family physician or medical practitioner.  The physical agility test is the second physical requirement.  Students must successfully complete the physical test within a one and one-half hours' time frame, before being allowed to register for Fire and Rescue classes.  The required physical agility test will be offered at fall orientation programs.
Upon successful completion of this program, a student will be able to:

Apply the principles of professional conduct by displaying a positive work ethic, flexibility, team work, physical fitness, safety consciousness, and sensitivity to diversity.
Demonstrate understanding of the required knowledge and skills in each disciplinary area of emergency services operations related to the Fire and Rescue service.
Operate safely and effectively during emergency response simulations and while performing duties in collaboration with or under general supervision of participating external agencies.
Demonstrate quantitative literacy related to fire and rescue operations.
Communicate effectively and coherently, both in written and verbal formats, while participating in non-emergent and emergent situations
Park County Rural Fire District #1, located in Livingston, Montana, has partnered with Helena College to offer students the opportunity to earn an Associate of Applied Science Degree in Fire and Rescue while living at a working firehouse.  Four full scholarships and a partial scholarship are offered for five live-in positions.  Courses are delivered in Park County and occasional lab experiences are conducted at Helena College in Helena, Montana.
Eligibility requirements:
Apply to Helena College and be accepted into the Fire and Rescue program. See Academic Calendar for dates and deadlines. 
Once accepted to the College, applicant must apply for the residency program with Park County Rural Fire District #1 in Livingston, Montana.
Benefits of the Residency Program include:
Free room and board
Potential for full or partial scholarship
Additional training opportunities by fire professionals
Experience and skill refinement responding to emergency incidents
For further information on residency program and scholarship opportunities contact: Dann Babox, Fire Chief or call 406-222-0562
Apply today!   Residency program for fall 2018 begins May 20, 2018.