TESTING CENTER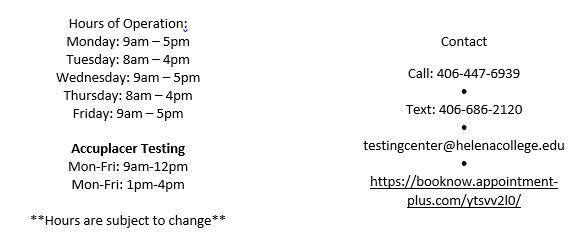 The Testing Center in Room DON114 has facilities to handle the administration and proctoring of such tests as ACCUPLACER, Accommodated, Make-up exams and tests, and other web-based and standardized testing. There are also private testing rooms for those students with disabilities that warrant private testing accommodations (see information on Disability & Access Services).
ACCUPLACER Testing
The ACCUPLACER placement test is a tool that Helena College uses to place students in the appropriate level for math and writing courses. The test will determine your knowledge in math, reading, and writing as you prepare to enroll in college-level courses.
Accuplacer Placement Test
Accommodated Testing
An academic accommodation is a modification that is made to a course, program, task, activity or facility that eliminates or minimizes disability-related barriers to allow for equal access.
Enrolled HC students who provide documentation of a permanent documented disability is eligible for accommodated services. Students are encouraged to schedule all semester tests at the beginning of the semester.

Testing Center Guidelines


Make-Up Testing
Proctoring services are available for students to take an exam granted the approval by the students Instructor. Makeup tests or exams should be scheduled at least 24 hours in advance.
By Appointment Only
Last available appointment time is two hours before closing.
All tests must be completed and turned into the proctor by closing, no exceptions.
Testing Center Guidelines 

Faculty Request For Testing
TEAS Testing
When
April
Wednesday 15, 2020 9:30am – 1:30pm
Thursday 16, 2020 8:30am – 12:30pm 
Registration is $70, sign up at the Cashier's Desk!
The TEAS test is a requirement if you are applying for the LPN or ASRN programs.
If you have any questions about payment contact the Cashiers Desk or questions about what is covered on the test contact the Nursing Department.
Sorry No Refunds!
Registration fee is forfeited if you No Call / No Show
Plan Accordingly!
Resource information and pre-test available at ATItesting.com, the Helena College Library, or the Helena College Bookstore.