Computer Aided Manufacturing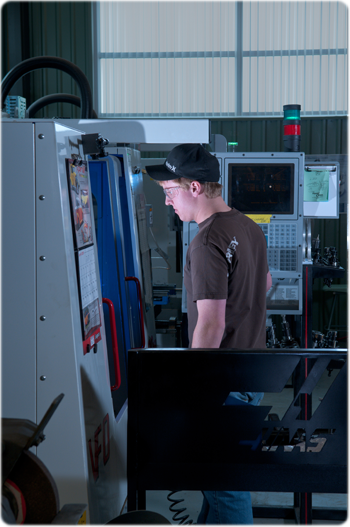 What type of job can I get?
Machinist
CNC operator
CNC programmer
Job outlook & wages
Median Wage in MT*:  $32,890 - $40,410
Median Wage in US*:  $34,730 - $38,520
Expected Growth in MT*:  11.8% - 20.3%
Expected Growth in US*:  -4.6% - 6.6%
*Bureau of Labor Statistics, Office of Employment Projections; MT Dept. of Labor and Industry, Research and Analysis Bureau
Degrees
Associate of Applied Science – Computer Aided Manufacturing
Certificate of Applied Science – Machine Tool Technology
What you'll learn
Computer Aided Manufacturing is designed to prepare students as entry-level machinists in many areas.  Students will study machining processes and procedures using lathes, mills, drill presses, cylindrical grinders, and surface grinders.  The first year students will use a variety of manual machines, including engine lathes, horizontal and vertical mills, cylindrical grinders, surface grinders, drill presses, and radial arm drill.  Students will work from blueprints and follow exact specifications and apply practical shop math to accomplish the required tasks.  The second-year CNC portion of machine shop is devoted to the programming and operation of the CNC machine.  Students will be prepared to enter the work force as entry level programmers and CAD/CAM technicians.  Students will program and operate machine centers and turning centers in the lab.  Students will learn the Mastercam programming system, which allows students to design parts on the computer and then manufacture them in the lab.  Students will work from blueprints and exact specifications that are used in industry.  Lab work will include manual and CNC machine use.  These machines will be used for manufacturing fixtures, project work, and production projects.  Students will learn the Mastercam programming system, which allows students to design parts on the computer and manufacture them in the lab.








Helena College is pleased to be a FANUC Certified Educational Certified Institution.  The FANUC Certified Education CNC Training program ensures that students learn the skills that industry demands from FANUC certified instructors, using a FANUC approved curriculum on genuine FANUC CNC equipment. FANUC's comprehensive curriculum teaches the critical aspects of CNC machine setup, operation and programming using industry-leading equipment and providing sufficient repetition to ensure effective learning.

Upon successful completion of this program, a student will be able to:
Perform machining operations to exacting tolerances common in industry.
​Prepare and demonstrate cutting tool applications.
​Prepare, setup,  and operate precision manufacturing equipment.
​Interpret and create various blueprint types and information.
​Demonstrate and complete machine and tooling maintenance
Program cost
$3,700 - $7,600 (Depending on length of program)
Potential employers
Aerospace, Computer companies, Job shop, Gun smiths, Tool and die making companies, CNC companies.
Instructors
Art Warner
Matthew Moyer