Automotive Technology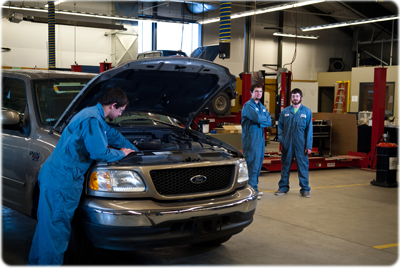 What type of job can I get?
Automotive Technician
Automotive Mechanic
Job outlook & wages
Median Wage in MT*:  $33,400
Median Wage in US*:  $35,790
Expected Growth in MT*:  13.2%
Expected Growth in US*:  4.7%
*Bureau of Labor Statistics, Office of Employment Projections; MT Dept. of Labor and Industry, Research and Analysis Bureau
Degrees
Associate of Applied Science – Automotive Technology
What you'll learn
The Automotive Technology curriculum consists of eight areas of study as defined by the National Institute for Automotive Service Excellence (ASE) and is certified by the National Automotive Technicians Education Foundation (NATEF).  This nonprofit corporation is dedicated to improving the quality of automotive service and repair as well as assisting in training and program development throughout the nation.  The eight content areas of study, along with the College's general education requirements, are structured into four groups with all eight areas of study being offered during a two-year period.  Successful completion of this program will enable students to enter the automotive job market.
Upon successful completion of this program, a student will be able to:
Demonstrate safe shop practices and hazardous material handling
​Diagnose and repair automotive electrical systems to NATEF Standard
​Diagnose and repair automotive engine performance, fuel, and emission control systems to NATEF Standard
Diagnose and repair automotive brakes suspension, and steering systems to NATEF Standard
​Diagnose and repair automotive internal combustion engine systems to NATEF Standard.
​Diagnose and repair automotive powertrain systems (manual and automatic transmission/transaxles and drive axles) to NATEF Standard
Diagnose and repair automotive heating and air conditioning systems as to NATEF Standard
Program cost
$8,000 - $8,500 (Includes cost for tools, coveralls, and red rags as requirement of program)
Potential employers
Major dealerships, Independent and specialty shops, Transmission shops, Government motor pools, and Fleet maintenance
We Support ....
Instructors
Dave Jones
Joe Zimmerman