Library Research Prize Winners
Congratulations to the winners of the Fall 2017 Library Research Prize! Read the winning submissions from Mindy Flanders and Riki Emerson on the Library Research Prize page.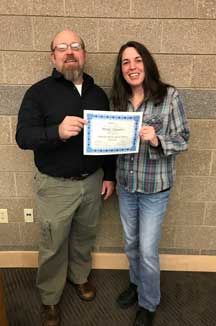 Rick Henry, life science instructor,                                          Second place winner Riki Emerson
with first place winner Mindy Flanders                                    with nursing instructor Becki Gibson.
Double the Group Study Space!
The Group Study Room in the Student Center (next to ASHC) is now managed by the library. This means students can reserve the room for up to 4 hours at a time, up to 4 weeks in advance. Contact the library to make a reservation.
New Laminator
If you love a freshly laminated sheet of paper, do we have news for you! The library now has a laminator for student, staff, and faculty use. Lamination sheets (8 ½ x 11") can be purchased in the bookstore, but the machine can accommodate sheets up to 11x17", so you can request larger sizes in the bookstore or bring your own.