New at the Library
  Learn a new language with Mango Languages!
Have you ever wanted to learn French? What about Mandarin Chinese, Yiddish, Pirate, or Shakespearean English? Mango languages uses conversations, guided practice, and films to teach over 70 languages, and it's all free through your library. Visit Mango Languages to get started, and be sure to create a free account if you want to save your progress or try the mobile app.
Try it Out! Flipster: Top Magazines on Your Mobile Device

The library is currently in a trial period for an awesome new resource. With Flipster, you can read top magazines on your computer, tablet, or phone - free! Magazines can also be downloaded for offline reading. To get started, click any title above or visit the library for more information.
Blazing New TRAILS
You might notice some changes to the library's search boxes. For the past year, the library has been busy implementing some major changes to the way we access our collection and share with academic libraries around the state. Read on to learn more.
Collaborating for Greater Access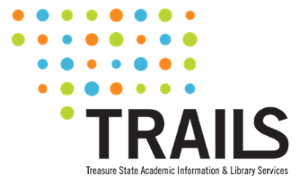 The library has officially joined TRAILS (Treasure State Academic Information & Library Services), a consortium of 24 academic libraries around Montana, to improve access to information and sharing of resources.
The most significant difference you will notice is in the number of books and DVDs available to borrow from other libraries. In addition to collections at University of Montana and affiliate libraries, you now have access to the materials at the Montana State University institutions, as well as some private and tribal college libraries.
Changing the Way You Search, or, Where'd the Catalog Go?
Our first milestone in the TRAILS consortium was the collective purchase of sophisticated library resource management software, which combines our traditional library catalog (how we manage our books and patrons) with a system for managing our electronic resources and sharing our data with other libraries.
It all comes together with a discovery tool, which we've named OneSearch. With OneSearch, you can search all of our electronic collections (articles and ebooks) and our print collection (books and DVDs) together with the collections of academic libraries around the state, to find the best resource for your needs.
Use the Helena College tab to find items in our library and items in our online collections that you can access as a student, staff, or faculty member of Helena College.
Use the TRAILS – Montana Academic Libraries tab to find items in our collections and items at other academic libraries around the state. You can request the books and DVDs that you find in this tab to be sent to Helena College for you to check out. Amazing!
For more details about using OneSearch and requesting materials from other libraries, watch our short tutorial. And, as always, don't hesitate to contact the library if you have any questions!