New Student Orientation
New student orientation provides you with information that will help you transition into Helena College and assist you in preparation for your academic, social and personal success. You will learn about campus resources, student life, academic workshops, tutoring services, public safety and more!
Attendance is required for all new, first-time students and re-admits (out two consecutive semesters). Please plan to be present for the entire four hour orientation session.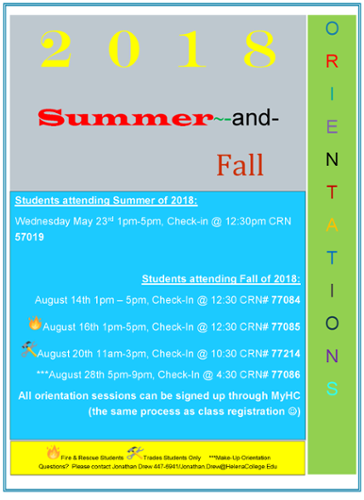 Fall Orientation 2018:
August 14 ~ 1pm to 5pm ~ Check-in time at 12:30 pm - CRN 77084
August 16 ~ 1pm to 5pm ~ Check-in time at 12:30 pm - CRN 77085
August 20 ~ 11am to 3pm ~ Check-in time 10:30 am - CRN 77214
What do I need to bring:
Student ID number (770)
NetID (HCS) and log-in password
More information? Contact:
Jonathan Drew
Academic Advisor
email: jonathan.drew@helenacollege.edu
Office: 406-447-6941
Lori Cooper
Administrative Associate
email: lori.cooper@helenacollege.edu
Office: 406-447-6939

The Student Support Center's Mission
The purpose of the Student Support Center is to foster student success through academic advising, tutoring, career services, and other educational resources.